I am not a huge fan of squash, but have been trying to eat really good lately. I sometimes like Spaghetti Squash plain, but I thought I would actually make a yummy sauce to go with it. It turned out delicious.

This recipe is easy to make and even my kids ate it!!
Spaghetti Squah Spaghetti
Ingredients
1 Spaghetti Squash cooked and shredded
2 T Olive Oil
1-2 Cloves of Garlic (or 1 T)
1 C Green Pepper
1 C Shredded Zucchini (I used my pre shredded frozen zucchini)
1 C shredded or chopped Carrots
1 Tomato Diced
1 Can Italian Diced tomatoes
1-2 T Italian Seasoning.
8 OZ of precooked chicken
1-1/2 cups Parmesan Cheese
Directions
Poke squash all over with a knife, like you would a potato, and cook in the microwave for 12-15 minutes until soft. You could also cook it in an Instant Pot.
While waiting for squash, sauté oil, garlic, pepper, zucchini and carrots in pan over medium heat. Once tender add chopped tomatoes and diced tomatoes and Italian seasoning. Add chicken. You can also cook the chicken in the pan with the oil before adding all the other ingredients. Simmer for 5-10 minutes until all the ingredient are cooked and tender. It's pretty thick sauce, but it is super yummy.
When squash is done, cut it down the middle and scoop out the seeds. Shred and place in the bottom of an 8X8 baking pan. Add a little salt and butter on top and mix it around to melt into the squash. Put sauce on top and sprinkle cheese on top. Cook in oven on 350º until cheese is slightly melted. (5-7 Minutes)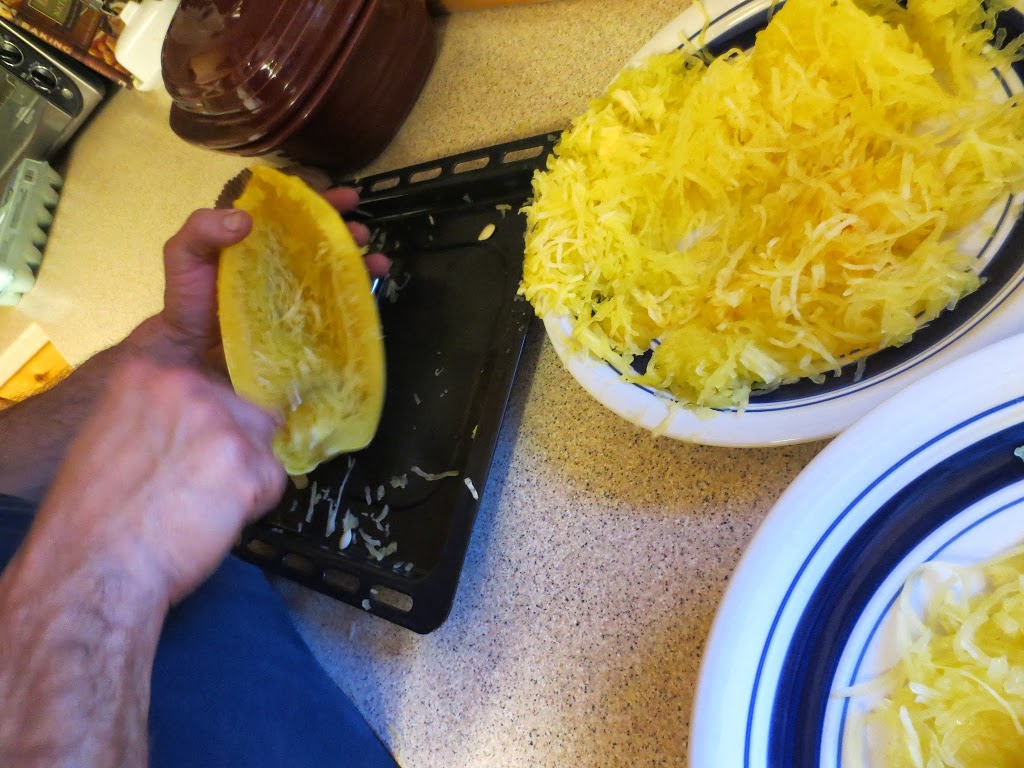 I assure you those are not my hairy arms! I enlisted my husband to be in charge of the squash. He is very thorough about getting it all out!
We decided to go the faster route and just put the squash on a glass plate, add sauce and cheese and the microwave it until the cheese is slightly melted.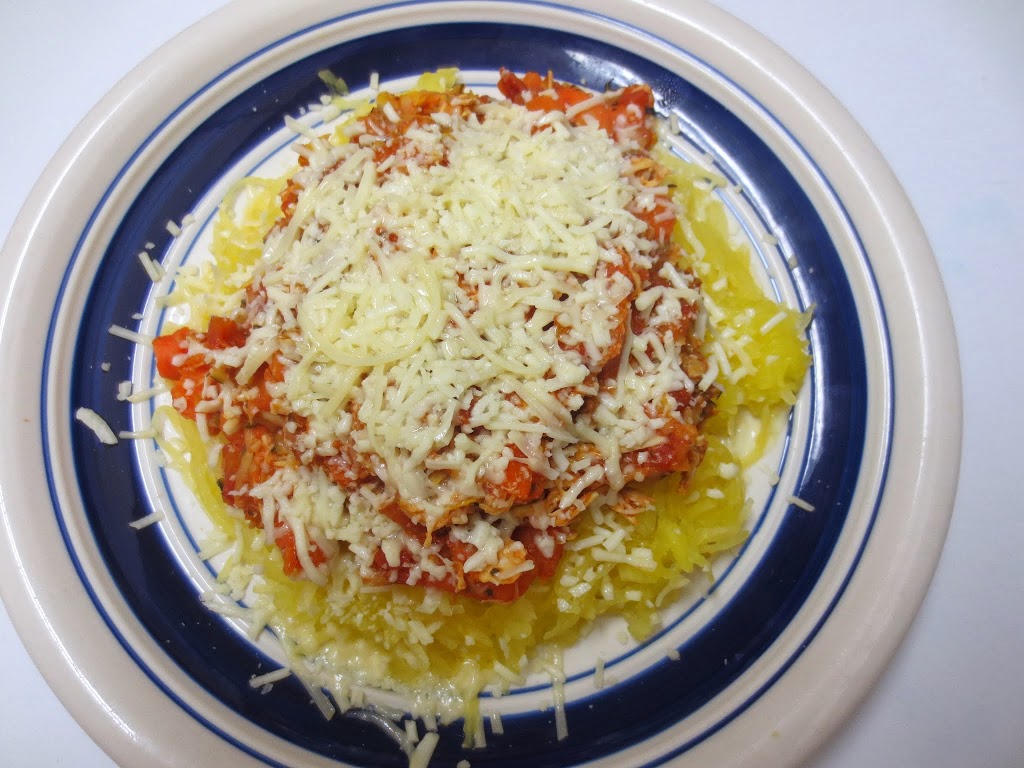 I can not wait to make this again. It was delicious! Let me know if you try this and how you like it!
Spaghetti Squash Spaghetti
2017-03-18 11:41:30
Ingredients
Spaghetti Squash Spaghetti
1 Spaghetti Squash cooked and shredded
2 T Olive Oil
1-2 Cloves of Garlic (or 1 T)
1 C Green Pepper
1 C Shredded Zucchini (I used my pre shredded frozen zucchini)
1 C shredded or chopped Carrots
1 Tomato Diced
1 Can Italian Diced tomatoes
1-2 T Italian Seasoning.
8 OZ of precooked chicken
1-1/2 cups Parmesan Cheese
Instructions
Poke squash all over with a knife, like you would a potato, and cook in the microwave for 12-15 minutes until soft.
While waiting for squash, sauté oil, garlic, pepper, zucchini and carrots in pan over medium heat. Once tender add chopped tomatoes and diced tomatoes and Italian seasoning. Add chicken. You can also cook the chicken in the pan with the oil before adding all the other ingredients. Simmer for 5-10 minutes until all the ingredient are cooked and tender. It's pretty thick sauce, but it is super yummy.
When squash is done, cut it down the middle and scoop out the seeds. Shred and place in the bottom of an 8X8 baking pan. Add a little salt and butter on top and mix it around to melt into the squash. Put sauce on top and sprinkle cheese on top. Cook in oven on 350º until cheese is slightly melted. (5-7 Minutes)
The Mama Birds http://themamabirds.com/
Happy Eating